Innehållet nedan modereras inte i förväg och omfattas därmed inte av webbplatsens utgivningsbevis.
Altiflex temporary walls and building enclosures
Tillbaka till företagsprofilen.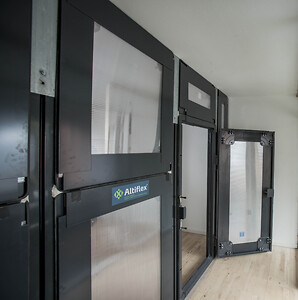 Altiflex is an innovative and flexible system for temporary walls, partitions and building enclosures. It provides high performance in terms of safety, energy efficiency, productivity, and total improved economy.

The adjustable windows and door modules can be combined to close practically any opening in a building.

Our modules withstand high wind loads and are impact-resistant, fracture-proof, anti-theft and are approved as edge protection systems.
Fakta om Altiflex Danmark ApS
Adress
Altiflex Danmark ApS
Nordholmen 10-12
2650 Hvidovre
Region
Danmark
Hovedstaden
Hvidovre Kommune
Telefon: +45 44242284
VAT nummer: DK39665999
P nummer: 1023729195
Anställda: 25