Ranpak reveals the future of fulfilment
Don't miss out the chance to more efficiency. Ranpak reveals how to gain higher profitability in the fulfilment industry.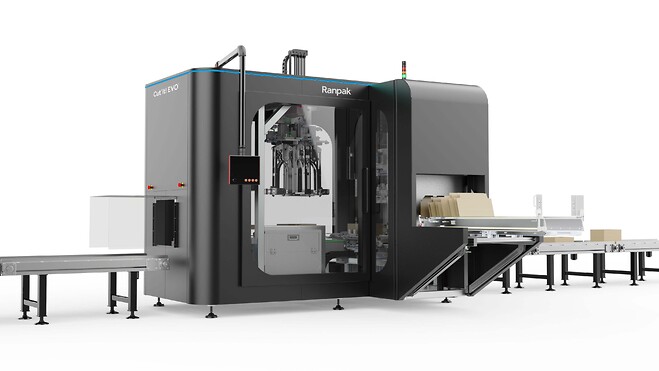 Machines like this from Ranpak sets a new standard to the automation process in fulfilment industry. Foto: Ranpak
Ranpak is hosting a PACK@lunch in Malmö October 28th. We had a talk with one of the speaker, Ruud van den Heiligenberg, Senior Sales Manager at Ranpak, sharing some views on the market with us and telling us a little bit more about Ranpak.
Ranpak is hosting PACK@lunch for the Scandinavian market both as physical event and a webinar. Is this the first time Ranpak is doing marketing on the Scandinavian market? If so, how come your interest in the Scandinavian market?
Yes, it is the first time we do this for the Scandinavian market. We have done this before in other countries in Europe. Scandinavia is a very interesting market for packing automation as the cost and availability of low skilled labor makes it quite difficult for logistic market
Tell us in short terms what is Ranpak? You celebrate 50 years this year – you have quite a history. What´s the story?
Ranpak was founded 50 years ago in the USA. Many people use old newspapers to wrap their fragile items when the move houses. This has given the founder of Ranpak the idea to
use paper in industrial production and developed a machine to create paper pads. 50 years later Ranpak is global market leader on paper protection systems for in the box protection,
stock listed on the NYSE and is selling in over 50 countries. In 2017 Ranpak has bought a startup company that developed a height reducing machine to reduce the void in carton boxes.
Five years later we are one of the largest companies producing automated packing machines for logistic companies.
On PACK@lunch you will focus on packaging and intra logistics solutions for e-commerce. This has been a booming market for some time and after the pandemic we can see some slowdown in the market in Sweden. What is your forecast for e-commerce in general and how can Ranpak help the e-businesses to higher profitability?
Indeed this is the first time in the e-commerce history that we see lower growth or even a decline. Or we could say we are coming back to a normal market situation after Covid19.
The shortage in availability of labor and the increasing wages makes it even more difficult for e-commerce companies and in peak periods it is getting almost impossible to scale up.
That is why we expect a steady demand for automated solution in picking and packing.
What expectations do you have on PACK@lunch I Malmö? What kind of potential customers do you want to meet?
We want to present Ranpak as a solution provider that will help companies in a consultive way to improve their efficiency in packing.
Our typical customers are in e-commerce, but also 3PL companies and B-to-B distribution centers for things like parts, tools and fashion.
You are also doing the event as a webinar. How come? Have you also been doing webinars for other markets? What is your experience of webinars?
The Covid19 period has shown that online webinars are very effective and time saving. We have done successful webinars in other European countries.
But of course physical meetings are needed to really discuss our customers needs.
As a potential customer how do you get in contact with Ranpak? Do you have dealers? Are you also visiting trade shows?
We have sales representatives in many countries, and we have many partners, also in Scandinavia. Yearly we present ourselves at the Logimat in Stuttgart which is the largest intra logistic exhibition in Europe.
Summing up – why should one sign up for PACK@lunch with Ranpak in Malmö?
If you are thinking of automating your packing activities in a simple and affordable way, come and listen to our presentation.
Also one of our Swedish customers will come and share their experience with Ranpak and how they got to a ROI of less than 1 year.
Thank you Ruud! Looking forward to hear more about Ranpak solutions for e-commerce in a week at Elite Savoy Hotel in Malmö! For more information and registration to PACK@lunch please follow the link below. Participation is free of charge!
Take me to PACK@lunch with Ranpak!
More on Ranpak
Ranpak is the world's largest paper filling solutions company for boxes to be shipped. Their machines produce paper filling material on demand on site in the warehouses, established in 50 countries has around 100,000 users of their machines, converting paper to filling material in packaging.
When sustainability issues became increasingly relevant in the e-commerce industry and criticism was made against too much air being transported around, Ranpak made a strategic decision to be part of the environmental development of the industry. In 2017 they bought a French Start Up and has since then developed and established an automation division with 115 employed, headquarted in Maastricht, Netherlands.
Among many important customers in Sweden they count IKEA and Elgiganten. Just like in the Paper Solution division Ranpak is selling their box reducing automated packing solutions through partners like integrators, warehouse systems provider and packaging box suppliers. In just five years Ranpak has become the second biggest player on the global market for automated packing machines in the fulfilment industry.
The Automation Solution division is present in North Amerika, Europe, Asia and Pacific. Next to the current machine production in The Netherlands, next year Ranpak will also start production of their Automated packing machines in the US. Headquarters is located where it once began in Concord Ohio.