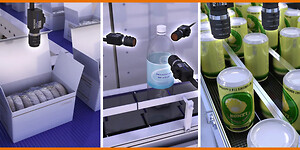 Machine Vision within the Food & Beverage industry :
We enjoy a rich and varied diet through economic development. This has made production and distribution increasingly complicated, which poses many questions such as: "Where was this product produced?" or "Are there any problems with residual pesticides or radioactive materials?" - Under these circumstances, food safety has once again become a topic of interest
The human eyes have limitations
Conventional inspections of expiration dates, mixing of foreign matter, package failures and other problems had to rely on the human eyes and experience, which was both expensive and time consuming. The human eyes have limitations and it is difficult to visually judge some targets such as medicine pills. In order to reduce the time and labor for improving productivity and to deliver safer and more secure food, an increasing number of companies have introduced image processing in their inspection processes in recent years.
Challenges in food and beverage industry as we offer exclusive solutions to:

* Detecting loose caps on containers * Checking fluid levels
* Checking correct color of liquid * Checking bottle thickness
* Label checks * Pressure sensors
* Barcode reading * Presence/absence detection
* Defect inspection * Measurements
* Identification OCR / ID * Color inspection
* 3D with camera or profile sensor
Solutions: Machine Vision – quality & continuity:
Now, for the first time, food and beverage manufacturers can meet all their sensor and vision needs throughout their complete production, packaging and finishing workflows with one supplier.
– Our sensors and vision systems offer faster transfer times, higher quality measurements, flawless hardware and more robust performance, ensuring customers receive the best return on investment available in the industry
Machine Vision – quality & continuity: Inspect up to advanced 2D and 3D applications
CV-X vision systems can inspect simple applications to advanced 2D and 3D applications simultaneously. 3D inspections for reliable inspections can be done from a single camera or a laser profile meter. But they can also be expanded to use four cameras per control, enabling operators to inspect 100% of the product from different angles.
⇒ Simplified inspections with greater accuracy
⇒ High-speed operation with LumiTraxTM support
⇒ Camera with built-in angle sensor
-How can we support and help you to bring quality and continuity into your business for a long term and lower your costs, – reduce production stoppages and errors in the production.
See examples and feedback from other Machine Vision users
WELCOME to contact us for more information: info@recab.com
More News from Recab:
- Recab Catalog – Developed products & solutions
- Winmate: L140 Series Rugged Laptop - For Challenging Work
- Recab News: VPX with Intel's 11th Generation Processors
- Sony STARVIS IMX462 sensor for Color Industrial Cameras
- NEW version: Hirschmann Operating System (HiOS) V9.0