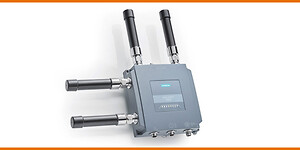 SCALANCE MUM856-1 Let us deliver streamlined industrial 5G connectivity
The SCALANCE MUM856-1 provides enhanced mobile broadband (eMBB) and supports easy and secure remote access use cases, delivering streamlined 5G connectivity today!
SCALANCE MUM856-1 5G
router (RoW), IP65, for wireless IP communication of Ethernet-based applications via public 3/4/5G mobile radio networks and private 5G networks.
Download datasheet
Transition to 5G
Start your transition to 5G with superior performance: SCALANCE MUM856-1 went through to serious test cycles with extreme overloads in order to identify design or material weaknesses. The resulting enhancements reliably ensure increased robustness for industrial environments. And since the Industrial 5G standard is rolled out in several release waves (with some industry-relevant 5G features still in the pipeline), SCALANCE MUM856-1 helps you gain traction in 5G without burning the bridge to proven cellular standards. Put simply: SCALANCE MUM856-1 is tailored to perform – in all respects.
IP65 with M12-Connect and N-Connect
The robust SCALANCE MUM856-1 hardware with protection class IP65 with M12-Connect and N-Connect allows a cabinet-free installation and withstands demanding environmental conditions.
With high data rates (1 Gbps download and 500 Mbps upload) through 5G (Release 15), SCALANCE MUM856-1 is designed for the transmission of large data via public and private 5G networks.
See all for Feature for the SCALANCE MUM856-1 – Streamlined 5G connectivity at Recab
Link to Recab´s range of Remote communications/ routers (WAN 3G/4G/)
Link to SIEMENS